---
Brand strategy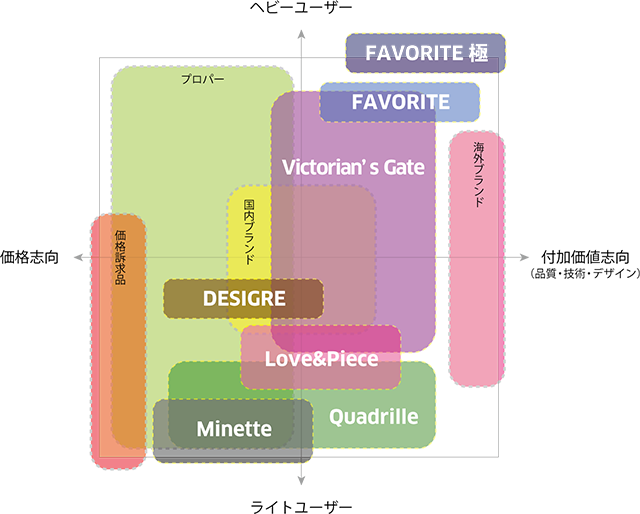 Positioning map
Develop the brand strategy taking aim at a target
In Murata jewelry, we are developing original 6 brands aside from proper items and price appeal items.
Each positioning is according to the map. We develop the brand strategies that take aim at various targets from FAVORITE of expensive items to Quadrille of standard items.
---
Our Brands

Bijoux De Famile
Estate jewelry to be inherited
By mother to daughter, to family. High value to inherit from time to time.
Our own Brand FAVORITE, We only pick up jewelry that have special valuable & rarity "極 – KIWAMI".
"FAVORITE極" – Beauty, high quality, hand made technique ,all the top of murata jewelry house Brand.
---

Selected genuine material
Only your favorite
This is high quality jewelry that is characterized by meticulous selection of stones by GIA G.C. (international gemology specialists) and the design bringing out the value of materials.
Its unique design and high quality are particularly popular among discerning jewelry lovers.
The greatest appeal of FAVORITE is that it provides a particularly impressive and elegant presence when you need to dress up for your taste and events.
The unique lineup of the brand, as indicated by its brand name, has a number of single Jewelry items,which will be favorite only for the customer.
We launch new models depending on the season.
---

Elegantly and attractively color ladies
Antique style jewelry
The culture of the Victorian Age in England, which flourished from the middle of the 19th century to the beginning of the 20th century, about 100 years ago.
While white nobles and wealthy merchants compete for beauty, jewelry design reached the quality of the remarkably high level through development of fine toreutic techniques and discoveries of a new variety of jewels.
Victorian's Gate is an excellent antique style jewelry which revived in modern times the dainty and gorgeous design and the thought and lifestyle of the people of that times.
It is not only in antique style which you can wear at formal occasions,but also offers elegant and glamorous styles that can apply to the fashions of modern women who express their individuality.
It combines not only garnets and seed pearls which are popular stones used for antique jewelry, but also various jewels and materials.
So that you can enjoy luxurious designs.
---

Simple jewelry to wear casually
as if you enjoy music melodies
It is a standard jewelry series which everyone can enjoy casually, matching its name.
"Quadrille" meaning airy dance music.
The feature is that customers can purchase merchandise of a stable quality at the same price everywhere in Japan, offering an opportunity to select secure jewelry with high cost performance and allowing customers to place orders at any time from the catalogue.
It is the most important priority for a purchase that the jewelry has secure quality and price because it is used casually.
Quadrille that proposes a new way of purchasing jewelry is a strong and stable friend of women who want to wear good things casually at certain gatherings, including ceremonial occasions.
---

A piece of your love
Love & Piece is a brand which aims to donate part of the profits from sales to disadvantaged children around the world through Plan Japan international NGO.
It daringly uses the world "Piece" and not "Piece" because we want as many people as possible to cooperate based on the concept 'a piece of you love'.
With respect to the present problems at precious stone excavation sites and in the distribution process, there are situations that must not be overlooked by all the party concerned throughout the industry.
Under such circumstances, our attempt that clearly hoists support for children around of poor environments even if only slightly formulate agreements and expectation from many people in the jewelry industry as pioneering activities leading the industry.
Assistance has been provided for children in Sri Lanka and Cambodia,which are the world's jewel producing countries, and our desire is to lend support to children in more areas in the future.
---

Beautiful jewelry
that
Italy's superior engraving technology produces
The concept of Quadrille is jewelry that everyone can enjoy casually.
Backed by it, Quadrille Italy offers only beautiful items carefully selected and created by Italian superior toreutic metalworking techniques.
Italy has an excellent reputation about the highest toreutic metalworking techniques in the world.
The Quadrille Italy lineup includes delicate and splended jewelry created Italian toreutic metalworking craftsmen.
The form that a soft curve wraps up a jewel inherits a tradition of the Renaissance.
From it, we can have a glimpse of not only the high technique passed down but also the spirit of challenge in the creation of new pieces.
---

For fashionable and cute girls
Minette is a jewelry brand created for girls who adore fashion and looking cute.
Minette,the black cat loves girls who want to enjoy fashion wearing jewelry for the first time and willful and capricious girls who love all things "Kawaii" and are not satisfied with typical jewelry.
Minette is always there for cuddling whether you are in your room or you are out, Minette is the sister brand of Quadrille, our classic lineup of jewelry that everyone can enjoy wearing.
Always keep these pieces with you for your occasions.
---

Cultured Pearl
Pearl jewelry typically means standard designs as pearls are conveniently worn for ceremonial functions.
Our "carefully selected genuine pearls" are based on attention to detail and pursuit of intrinsic value that focuses on beauty of each piece in our pearl jewelry collection.
Pearls of the highest value are always used abundantly, and we perform a lineup the items which were particular about the design thoroughly.
As elegant pieces of fashion, in a scene doing dress up, our jewelry attracts the attention of those around the wearer, you.
---

Designing your desires
DESIGN & DESIRE
For escort
Invitation to our original unisex jewelry.
For ambition
For a proactive attitude toward life, never letting go of your desires.
For forties
For the fulfilling season of your life.
Designing the hopes and desires of cheaters and owners with the highest quality … That is DESIRE.
---

We suggest "Another eternal love"
Memorial jewelry "Eternity" inherits the design and thought of Victorian's Gate that revives the engraving technology and splendid decoration in the Victorian era to present age. This suggests "the form of eternal love" that is the opposite side to the bridal ring.
It is supposed to be the custom established by Queen Victoria that wears jewelry with remains and the hair of the deceased. It is the first memorial jewelry in the jewelry industry "Eternity" that inherited the tradition of 100 years ago and stuck to the value of jewelry.
Positioning memorial jewelry as the opposite side of bridal jewelry is a fresh approach and is a pioneer in exploring new standard markets of jewelry.
---